With the ekey finger scanner arte in the format 25 x 52 mm, Europe's no. 1 in fingerprint access solutions presents the design product in small format.
With its elegant stainless steel finger guide, the
ekey Finger Scanner arte
specially designed for flush installation in design doors and door handles. Thanks to its mini format, the finger scanner can be discreetly integrated into unusual door designs and fittings and is suitable for both interior and exterior doors.
The ekey finger scanner itself is equipped with intelligent software that communicates with the control unit in encrypted form and recognises changes in user habits and learns with every use.
ekey Fingerscanner arte now also in BLACK!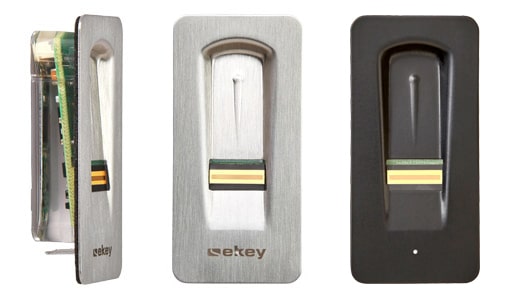 ekey Fingerscanner arte is now ready for application.
With the new ekey control unit micro plus* the ekey finger scanner arte can now also be operated with App. This allows you to open the door with your smartphone and use all the advantages of the App operation, which were previously reserved for the ekey finger scanner integra.
Thanks to this development, door and door handle manufacturers in particular have a cross-model operating concept that is distinguished by its user-friendly control: the ekey home App.
The intuitive menu navigation with the smartphone enables the dealer, installer or end user to get started quickly. All important configurations, such as creating, administrating and deleting users, assigning authorizations for defined accesses, changing relay times and much more can be done at any time by the owner (as administrator) himself.
Wiring diagram ekey FS arte
with ekey SE micro plus